The Ministry of Greeting has been a vital component to the successful evangelism of 'Sharing Christ with Others' at Knox. We are always looking for more volunteers to help with greeting each Sunday as we hope to extend our hospitality with passion and enthusiasm to all who enter our doors and wish to worship at Knox.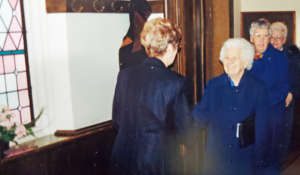 Our primary mission is to welcome newcomers and members to Knox as guests of God and to listen and respond to their needs and assist them in their journey. Romans 15:7 from "The Message" by Eugene H. Peterson says "So reach out and welcome one another to God's glory. Jesus did it: so now you do it!"
This is a wonderful opportunity to volunteer whatever your age, to welcome our faithful members, new visitors and friend of Knox.
If you feel called to be part of this rewarding team, please contact Carol in the Office, or fill out the form below.
Yes! I want to be part of the Ministry of Greeting.